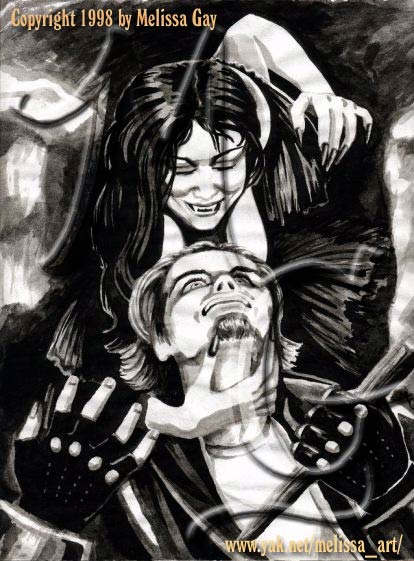 One Thanksgiving, I went out into the deep woods with a photographer friend of mine to do some modelling for him. One of the phots was of me frolicking in a streambed -- my wet hair looked dark on the B&W film. My first thought upon seeing it was, "How sweet!" My second thought was, "What a scary looking brunette I would make!"
I used ink for this because it looked like stuff in the Vampire: The Masquerade roleplaying game; but in part, the liquid medium was a nod to the stream and the photo which spawned the idea. This was one of my earliest attempts at an action scene =), and it is quite different from the inspiring photograph, which is very placid and pastoral. I suppose that says something about the duality of the human soul, if one were looking for that sort of thing.
The inspiring photo is by Ross Smith, © 1992, and is untitled last I heard.
Prints are available of this black & white drawing. They are on 8.5 x 11, matted...
Please check the Order Page for more information.